When I was 7 years old, I started praying for a sister to add to my 2 brothers. I would sit for hours and watch videos of orphans and read blogs. Then, when I was 10 years old, my parents finally decided to adopt! As we were waiting for my brother and sister to come home from Ghana, we had one picture of them. That picture was of my little sister holding a tiny piece of bread and she had not eaten in days. That picture inspired me to make a difference.
One night we were driving home from my grandparents' house and Mom wanted to stop and get dinner. The boys were excited, but I refused to eat. I asked Mom if we could buy bread for me instead. She said, "Only if you tell me what is wrong." I looked at her with tears streaming down my face and said, "WHY SHOULD WE EAT LIKE KINGS AND QUEENS WHEN THEY HAVE NOTHING?"
That night, God told me to design a t-shirt to sell to raise money to provide food, medical supplies, and clean water to the orphans of Africa. I started a blog and named it Feeding the Orphans. My goal was to raise $500 and it was exceeded very quickly. I used the money to buy food and supplies for the orphanages and to feed hundreds of street children when we traveled for my brother and sister's adoption in September 2010.
Since then, God has continued to break my heart for the orphans and I just want to follow Him. I never thought following Him would lead this to be a non-profit organization.
Please join my family and I on God's journey to care for the orphans of the world.
Sydney
O'Leary: Party of Nine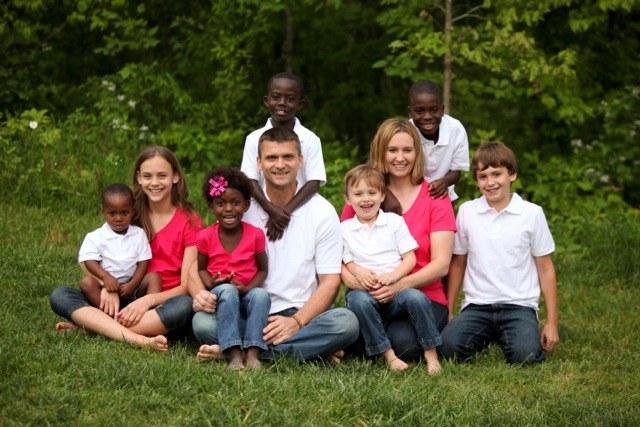 We are a family of 9 seeking to follow Jesus in caring for the fatherless. Our hearts were opened when our then 7 year old daughter was burdened to care for the orphans. Three years later, we surrendered to God and obeyed His calling. We adopted two beautiful children from Ghana, Africa and brought them home November 2010 exactly one year to the day from the time we said YES. During the process, our 10 year old daughter's heart was broken again for God's children. She followed Him to begin this ministry, which has become our whole family's passion in life. We completed our second adoption of two little boys in March 2012. Then, in April 2012, Righ left his career of 15 years and stepped into Feeding the Orphans full-time. We invite you to join us as we make a difference ONE CHILD AT A TIME.